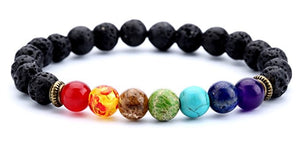 7 Chakra & Black Lava Bead bracelets are commonly used to balance energy and emotions. It is known to promote optimism and deter negative energy. Each color represents a different part of your body & aspect of your life.

Root Chakra, (Muladhara) = Red
Sacral Chakra, (Svadhisthana) = Orange
Solar Plexus Chakra, (Manipura) = Yellow
Heart Chakra (Anahata) = Green
Throat Chakra, (Vishuddha) = Blue
Third eye Chakra, (Ajna) = Indigo
Crown Chakra. (Sahasrara) = Violet

Add a couple drops of your favorite essential oil or essential oil blend to the porous black lava beads and enjoy!